Pasadena Chiropractor
Dr. Ted Marriott
Activator Method Chiropractic Technique: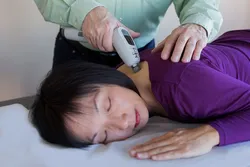 Activator Method Chiropractic Technique is the most popular "low force" chiropractic technique in the world for good reason. The doctor provides a specifically directed adjustment that is gentle, low-force and high in velocity. It quickly moves joints back into better alignment without twisting or cracking them. The activator method is safe to use on almost anyone including infants and senior citizens. Unlike other instrumental methods, Activator is supported by a body of university-based clinical studies and research and is approved by Medicare.
Trigenics:The "missing element" in total body care
Trigenics has been referred to as "the missing element" in total body care. It helps "reset" the way your brain communicates with your body. It "reboots" some of the information from your body to your brain and back again. It uses a combination of 3 scientific methods that get enhanced results when used together. Trigenics gives quick, enhanced results for most musculoskeletal problems. Significant positive outcomes can usually be seen with a short course of therapy.
Rapid Release Technology:The natural way to relax muscles
Rapid Release Technology utilizes a high frequency, high speed vibration instrument that is gentle on the body and relieves minor aches and pains from head to toe. It is quick and versatile and the positive results are usually felt immediately.
Foot Orthotics:
Custom made foot orthotics are insoles that are made specifically to be worn inside your shoes (casual, dress, diabetic or specialty shoes). We take a 3D (3 dimensional) picture of the feet in our office to help support the bones and joints of the feet. With proper support, the feet will better compensate for misalignments and structural problems in the feet. Correcting the feet helps support other areas of the body like the knees, hips, and low back among others. The best foot orthotics are "custom made" since they are made specifically for your feet.