ONE OF LA MAGAZINE'S TOP CHIROS
Dr. Ted Marriott, D.C.
Pasadena Chiropractor
A licensed chiropractic doctor for over 30 years with 13 years of advanced proficiency experience using the Activator Method Chiropractic Technique and Trigenics neurological muscle assessment.
As an All-American winner and gymnastics champion, I knew the value of keeping my body "fine-tuned" without drugs. When I was a teenager, I hurt my lower back and my gymnastic coach encouraged me to see a chiropractor. Real relief came after I had chiropractic treatment and that was my first inspiration to becoming a chiropractor. I went on to be a gymnastic director and coach which gave me an incredible advantage when I became a doctor.
I am a native Californian and have lived in Pasadena for 28 years. I became a chiropractic doctor in 1991 after getting a Bachelor of Science Degree in Human Biology from the Los Angeles College of Chiropractic (now SCUHS) in Whittier, CA. I am continually training and keep up to date with the many new advancements in the chiropractic profession. I focus on instrument adjusting but I have 4 specialties that are unique in my office:
Activator Method Chiropractic Technique
Trigenics neurological muscle assessment
Rapid Release Therapy: Vibrational technology to relieve muscle spasms
Custom Foot Orthotics
Patients ask me why they should have chiropractic adjustments. My answer is simple: "Patients get chiropractic adjustments to keep their body healthy." I promote maintenance and wellness care for my patients and my approach is to encourage patients to embark on a program that makes the most sense for them. Patients say I am focused and thorough in their care and I consider that a great compliment. I think of myself as a muscle and joint expert and pride myself on keeping up to date with the most current information available to give my patients the knowledgeable and understanding they need to get well and stay well.
Want to know more about the Activator Method?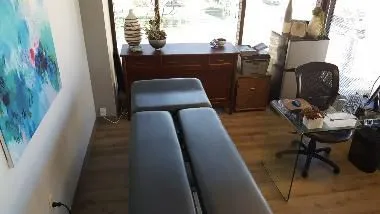 "Dr. Ted is an experienced chiropractor who is professional, thorough, patient and compassionate. His positive attitude and encouragement helped tremendously in making me feel better." - Annie